Current Events
(Programs and Exhibits)
Tour of Six Mile Creek
April 26, Thursday, Dryden Village Hall
Doors Open before 6:30PM for conversation about our community's history
Presentation at 7pm
From its headwaters in Dryden to its end in the City of Ithaca, Six Mile Creek is one of the most important streams in Tompkins County. Using photos, video, and sound, this presenta­tion will show some of the sites along the creek—some long gone, like the Fountain House in Slaterville, and some still active, like Brookton's Market in Brooktondale. Old photos will be combined with modern
Presenters:
Susan C. Larkin, a retired middle school teacher, has been studying photography at Tompkins Cortland Community College since 2005. She is a member of the State of the Art Gallery in Ithaca.
Timothy Larkin is a software engineer and a semi-retired member of the IT staff at Cornell's Department of Ecology and Evolutionary Biology. He has lived in Caroline since 1969, but never understood where the Brooktondale railway trestle had been until he started working on this web site  images to show graphically how much has changed.   info@toursixmilecreek.org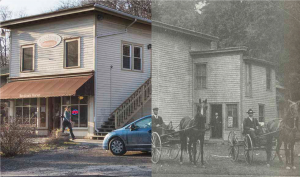 Dryden Town Historical
Society Annual Meeting
 Wednesday, May 16, 7PM
Dryden Village Hall
Doors open at 6:30
DTHS will hold its Annual Meeting on Wednesday, May 16 at 7:00 PM at the Village Hall. This is our opportunity to summarize the activities we've worked on in the past year. Though we try to be humble, our enthusiasm and pride will surely show. We'll also touch on plans for the coming year and elect Trustees to fill four vacancies on the Board. The twelve Trustees meet monthly to conduct the business of the Society.  That business includes plans for maintaining the Southworth Homestead and strengthening the programs and events that help members and other Dryden residents enjoy Dryden's history. Each Trustee chairs one of the committees that drive the work of the Society including the Program Committee, Exhibit Committee, Collection Committee, Finance Committee and more. If you think you might be interested in becoming a Trustee, please contact Mary Ann Sumner (masumner@gmail.com
or 227-5519)  or Shirley Price (844-8700 or Otisprice3@yahoo.com).
Following the business portion of the meeting, Mary Ann Sumner will talk about long-time resident of Dryden, William Dilger, the subject of the current exhibit at the Southworth Homestead. Bill was a scientist, teacher, artist and more. Some of his Cornell students still have ties to Dryden. Some of you may remember buying a Christmas tree at his Neimi Road farm. You may have been lucky enough to have attended the Happy Way Day Care program during the years Bill volunteered there. Or if you never met Bill, you'll enjoy the story and artwork of this exemplary neighbor.
DTHS EXHIBIT coming SPRING 2018
"DRYDEN FOOTLIGHTERS: Local Theater Group"
Dryden Footlighters, the beloved theatre group, kept good records, prepared wonderful PR and posters and wowed area audiences for almost 30 years.    DTHS has an extensive collection of Dryden Footlighters photographs, posters, organizational minutes and records, and videos.  If you were in the audience, production team, in the orchestra or part of the cast, you will enjoy this exhibit.  For more information, email ginaprentiss@gmail.com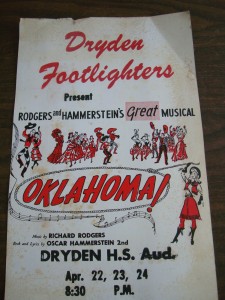 New Dryden History Research Released
Many retellings of the story of Dryden's first settler, Amos Sweet, have been produced. They are all based on the same series of articles published in 1857, which, it turns out, is inconsistent with census data. David Waterman has researched this issue, applying online genealogical resources and historical references to a search for the true Amos Sweet family, in order to tell its story. A booklet detailing his research, speculations and conclusions, entitled, "Who Was This Amos Sweet?" is now for sale at the Southworth House. This Amos Sweet narrative adds much fascinating new detail to our understanding of Dryden's earliest history. (illustration by David Waterman)