Welcome
Shaker "Great Barns": 1820s – 1880s
A Book Talk with author, Lauren Stiles
Tuesday April 25th, 7 p.m. Dryden Village Hall
Doors open at 6:30 p.m. Come early to meet the author and chat.
There will be copies of the book, Shaker "Great Barns" for sale. Free and Open to all.
Historic Ithaca partners with DTHS to present Shaker "Great Barns". Barns have been the subject of many DTHS programs. We've looked at structure, styles, uses, agricultural practices, and farm families. This talk by Lauren Stiles will discuss interesting details about the Shaker "great Barns". Lauren A. Stiles is an independent scholar who has written on Shaker agriculture, concentrating on the remarkable, four-level dairy barns built by the Shakers from Maine through western New York during the middle years of the 19th century. His book, Shaker "Great Barns" 1820s-1880s, includes numerous architectural drawings and photographs illustrating these unique structures. Described with praise in contemporary farm publications these barns became models for advanced modern agriculture. These, however, were not the only interesting barns built by the Shakers. On Route 79 just outside Windsor in Broome County, the Shakers operated a farm complex. One of the barns – known locally as the "1883 Shaker Barn" – was likewise noteworthy. Recent research uncovered an unexpected possible source for its unusual design. The barn and its design will be discussed at the April 25th meeting.
Stiles is a graduate of LeMoyne College with graduate degrees from Columbia and Brown Universities. He is a former librarian, retired after a thirty-year career at SUNY Cortland Memorial Library. Borrow the book at Southworth Library.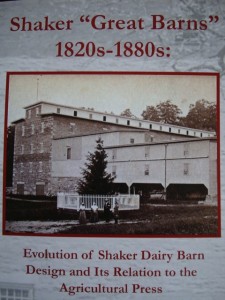 DTHS ANNUAL MEETING
Tuesday, May 16
7pm Dryden Village Hall
Program Announcement coming soon!———————————————————————————————————————
Welcome to the Dryden Town Historical Society. We are located in the village of Dryden, at 14 North Street, 10 miles from both Ithaca and Cortland.
We have new programs and exhibits monthly. Please stop in and chat with our staff and docents, and enjoy this wonderful opportunity to learn about the history of Dryden.
For a future DTHS program on Memorable Characters in the Town of Dryden, we would like to include, Florence Montgomery Southworth, John H Southworth, and Rebecca Southworth Simpson.  If you have stories or memories to add, please let the program committee know.

Address
14 North Street
P.O. Box 69
Dryden, NY 13053
Contact
607-844-9209
drydennyhistory@gmail.com
Hours
Saturday, 10am - 1pm
Or by appointment

drawing by Cynthia Cantu
Mailing List
Send an email to drydennyhistory@gmail.com to be kept informed of upcoming events.